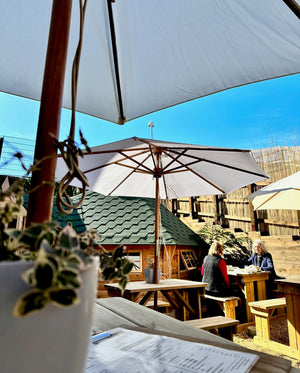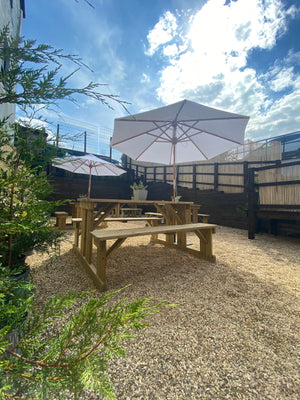 Café Alnwick | Forty Five
A hidden gem in Alnwick town centre, Forty Five offers a range of lunches, coffees & cocktails. Our alfresco courtyard is the perfect location to soak up some sunshine and refresh.
This is the perfect place to rest your legs after a long day exploring Alnwick town, castle & gardens, Northumberland's countryside, or beautiful beaches. Catchup with friends & family in our beautiful courtyard garden, or arrange a business meeting in a relaxed, stylish environment.
Arabica & Robusta Blend
All our coffees are made using premium beans, which we carefully chose as the perfect blend between caffeine & flavour.
Family & Dog Friendly
Our cafe area welcomes families of all sizes and ages, including dogs. We are happy to warm milk, and provide water for dogs.
Sweet Treats
There's just something amazing about coffee and a cake, and our range of fresh treats really are something special.
Hidden Gem
Nestled at the rear of our second floor, the cafe isn't visible from the main street. The sun shines here from dawn til dusk.
Take a Break
Mid-morning, brunch, afternoon, whenever it may be, we provide an oasis to enjoy a drink and some peace.
Forty Five is a unique concept, with outdoor seating soaking up sunshine all day long. Our tables vary in size, so that your party can feel comfortable and relaxed during your visit.
Find us on the second floor of Robinson's Department Store on Bondgate Within, Alnwick. We welcome customers through our main store entrance, follow signs up the stairs. Dogs are also welcome, although we ask that they are kept on leads and come straight through the shop.
For large parties, exclusive hire, or any questions, please contact us below.
Yes, we welcome well-behaved dogs at our cafe. We ask that 4 legged friends come straight through the shop to the courtyard, where this is plenty space for them.
Absolutely! We welcome families of all ages, and all sizes. There is plenty of space for prams, and we have tables available which seat up to 8. For larger parties, please get in touch.
Our indoor seating area will be open from September 2022, so we can offer amazing drinks & snacks when the weather isn't so amazing.
Yes! We serve a lunch menu including sandwiches, grilled lunches and fries!
Alnwick Castle & Alnwick Gardens are within 5 minutes walk from us. From the exit onto Grenwell Road, walk straight up towards Bondgate Tower. Walk past the tower towards the town centre. You are now on Bondgate Within, and we are number 45. Make sure you are on the right side of the road, we are above the cobbles.
Alnmouth is our closest beach, which is a 10 minute drive away. Bamburgh & Seahouses are within a 30 minute drive.
If you do not have a car, there are plenty of transport links locally. The train runs regularly on the east coast mainline to Alnmouth, which is 5 miles away. From here, the X18 bus runs regularly into Alnwick town centre. The X15 bus runs from Newcastle.